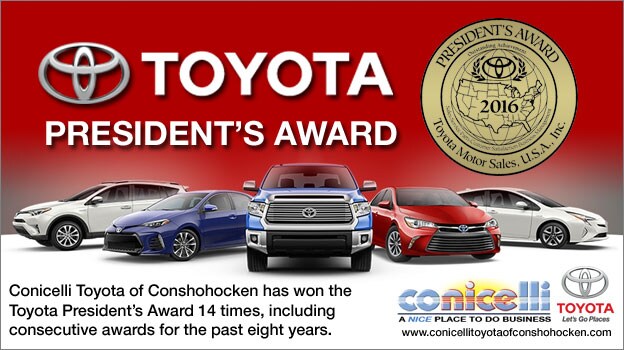 In March 2017, Toyota Motor Corporation announced that Conicelli Toyota of Conshohocken, Pennsylvania's #1 volume new Toyota dealer for eight years running (2009-2016), has also been awarded the 2016 President's Award for Customer First. Conicelli Toyota of Conshohocken has received this award 13 times before, including consecutive awards from 2010-2016.
Each year, Toyota Motor Sales recognizes its stellar dealerships with the prestigious President's Award. It's a prestigious honor from Toyota and is only awarded to those dealerships who have demonstrated a commitment to maintaining Toyota's high standards for customer satisfaction.
One of Toyota's primary goals is to emphasize the entire ownership experience. Toyota wants to help ensure that their customers are satisfied not only at the time of purchase, but as long as they own their vehicle. Offering top quality cars and trucks is, of course, the first step — but only the beginning. Toyota dealerships strive to match the quality of their products with the finest service in the industry.
In order to qualify as a President's Award winner, dealerships must excel in each of a series of categories, including Customer Sales Satisfaction and Customer Service Satisfaction.
For our customers, this award is not surprising, it's confirmation of the quality of service they receive from the employees at Conicelli, where all of the departments at the dealership strive to provide a memorably great customer experience with every customer interaction.
This prestigious award merely shows that Toyota knows just how well Conicelli Toyota of Conshohocken customers have been treated day in and day out at "A Nice Place To Do Business".
*Conicelli Toyota of Conshohocken is the #1 volume Toyota dealer in Pennsylvania, based on Toyota new vehicle volume sales for 2016 as reported by Toyota.