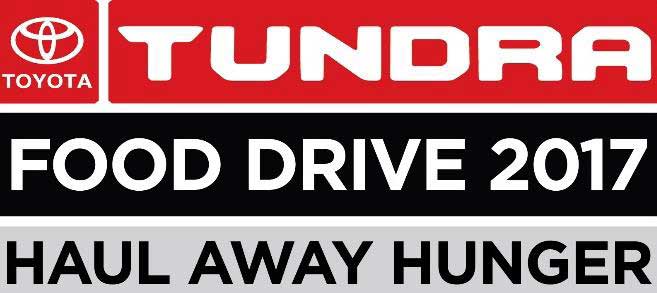 1 in 8 people in America are food insecure today; yet in Philadelphia that statistic rises to 1 in 5.
With those statistics in mind, Toyota has teamed up with Philabundance, the Delaware Valley's largest hunger-relief organization, to provide a flexible donation that provides food now, and into 2018 for our neighbors facing hunger. On December 15, a convoy of 75 Toyota Tundras measuring more than five football fields in length will caravan through Philly, hauling pallets of food for the hungry totaling more than 300,000 pounds. Both Conicelli Toyota of Conshohocken and Conicelli Toyota of Springfield are eager participants again this year.
Though this food drive is designed to coincide with the holidays, the collective amount of food purchased through the drive will be delivered to Philabundance over the next several months.
This marks the 11th year of Toyota Tundra Food Drive, and this food drive will be its largest to date. The food was purchased through donations made by the Tri-State Toyota Dealers Association (which comprises 25 dealerships in Pennsylvania, New Jersey and Delaware) and dozens of the dealers' business partners, including television and cable outlets, radio stations and sports organizations. It also provides greater awareness of the hunger crisis our area faces.
The annual event is a Toyota Family affair with Toyota Financial Services, Toyota Material Handling Northeast and the Central Atlantic and New York regions of Toyota Motor Sales, USA.
Although the cause is serious, the mood of the day will be festive, as the food drive has become one of Philly's most highly anticipated charitable events. The awe-inspiring truck convoy will depart from Philabundance's North Philadelphia warehouse, make the 7-mile trip down Columbus Boulevard under a police escort, and arrive at Citizen's Bank Park, where it will be greeted by a throng of supporters, media personalities and Philadelphia sports icons.
Toyota hopes that its food drive will inspire other organizations and individuals to help Philabundance in any way possible. Visit
www.philabundance.org
to find out how you can get involved in hunger relief, and join the conversation on social media with the hashtag #HaulAwayHunger.
About Philabundance
Philabundance is the Delaware Valley's largest hunger relief organization, serving more than 90,000 people each week in nine counties in Pennsylvania and Southern New Jersey. Of those served, thirty percent are children, sixteen percent are seniors, and adults served include students, the working poor and single parents. In 2016, Philabundance rescued more than 10 million pounds of food and distributed 23 million pounds through its own distribution programs, and a network of 350 agencies. A one dollar donation provides two meals – Give now or learn more at
Philabundance.org
.