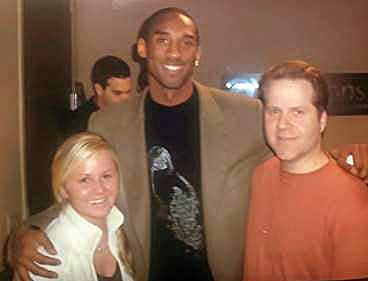 Kobe Bryant with Katie Conicelli and her father, Dom Conicelli, Jr.

We were reminded recently, following the tragic news of the death of basketball great Kobe Bryant and 8 others, of a small but meaningful connection to Conicelli Autoplex. Ken Knickerbocker writes on Montco Today:
Kobe Bryant helped a local woman regain some independence after being shot by gifting her a wheelchair-accessible van purchased with help from Conicelli Autoplex in Conshohocken, writes Jeff Eisenberg for Yahoo! Sports.

The Lakers star was in Philadelphia twelve years ago for a game against the 76ers. But before arriving, he contacted Scott Charles, trauma outreach coordinator for Temple University Hospital, to find a family impacted by gun violence that he could help.

Charles recommended Chinika Perez, a young single mother who had lost both of her legs and had reduced use of her arms after a bullet tore through her femoral artery in 2006.

She desperately needed a wheelchair-accessible van and Bryant decided to provide one for her. After the Conshohocken company found the van, Bryant and Dom Conicelli presented it to Perez in December 2007 with no media present at Bryant's insistence.

After the meeting, the NBA star invited Perez, Conicelli, and their families to attend the game as his guests.

"That meeting, which few people knew about, changed her life in ways that Kobe could not have fully appreciated," said Charles. "To this day, the family still has the van."
Read more about Kobe Bryant and Dom Conicelli helping Chinika Perez at Yahoo! Sports.